Overview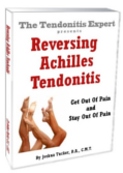 You can feel your Achilles tendon beneath the skin on the back of your ankle. It is a fibrous band of tissue that connects your calf muscles to your heel bone (calcaneus), which allows you to lift your heel off the ground. Most commonly an overuse injury, the term Achilles tendinitis commonly refers to, acute inflammation in the sheath surrounding your tendon, chronic damage to the tendon itself, called tendinosis, a combination of the two. Achilles tendinitis can range from mild inflammation to, in rare cases, a tendon rupture. One type of tendinitis, called insertional Achilles tendinitis, can affect the end of the tendon where it attaches to your heel bone. Achilles tendinitis also can be associated with other foot problems, such as painful flat feet.
Causes
Achilles tendonitis most commonly occurs due to repetitive or prolonged activities placing strain on the Achilles tendon. This typically occurs due to excessive walking, running or jumping activities. Occasionally, it may occur suddenly due to a high force going through the Achilles tendon beyond what it can withstand. This may be due to a sudden acceleration or forceful jump. The condition may also occur following a calf or Achilles tear, following a poorly rehabilitated sprained ankle or in patients with poor foot biomechanics or inappropriate footwear. In athletes, this condition is commonly seen in running sports such as marathon, triathlon, football and athletics.
Symptoms
Dull or sharp pain anywhere along the back of the tendon, but usually close to the heel. limited ankle flexibility redness or heat over the painful area a nodule (a lumpy build-up of scar tissue) that can be felt on the tendon a cracking sound (scar tissue rubbing against tendon) with ankle movement.
Diagnosis
If you think you have Achilles tendinitis, make an appointment to see your doctor. The doctor will ask you questions about your recent activity and look for signs. The foot not flexing when the calf muscle is pressed ( if Achilles ruptures or tears in half). Swelling on the back of the foot. Pain in the back of the foot. Limited range of motion in ankle. An X-ray or MRI scan can check for tendinitis.
Nonsurgical Treatment
Treatment of Achilles tendonitis begins with resting the tendon to allow the inflammation to settle down. In more serious situations, adequate rest may require crutches or immobilization of the ankle. Learn more about different treatments for Achilles tendonitis, including ice, medications, injections, and surgery.
Surgical Treatment
There are two types of Achilles repair surgery for tendonitis (inflammation of the Achilles Tendon), if nonsurgical treatments aren't effective. Gastrocnemius recession - The orthopaedic surgeon lengthens the calf muscles to reduce stress on your Achilles tendon. D?bridement and repair - During this procedure, the surgeon removes the damaged part of the Achilles tendon and repairs the remaining tendon with sutures or stitches. Debridement is done when the tendon has less than 50% damage.
Prevention
While it may not be possible to prevent Achilles tendinitis, you can take measures to reduce your risk. Increase your activity level gradually. If you're just beginning an exercise regimen, start slowly and gradually increase the duration and intensity of the training. Take it easy. Avoid activities that place excessive stress on your tendons, such as hill running. If you participate in a strenuous activity, warm up first by exercising at a slower pace. If you notice pain during a particular exercise, stop and rest. Choose your shoes carefully. The shoes you wear while exercising should provide adequate cushioning for your heel and should have a firm arch support to help reduce the tension in the Achilles tendon. Replace your worn-out shoes. If your shoes are in good condition but don't support your feet, try arch supports in both shoes. Stretch daily. Take the time to stretch your calf muscles and Achilles tendon in the morning, before exercise and after exercise to maintain flexibility. This is especially important to avoid a recurrence of Achilles tendinitis. Strengthen your calf muscles. Strong calf muscles enable the calf and Achilles tendon to better handle the stresses they encounter with activity and exercise. Cross-train. Alternate high-impact activities, such as running and jumping, with low-impact activities, such as cycling and swimming.